The GDPR, or the General Data Protection Regulation, governs the way that personal data of EU citizens is processed, moved, and stored. The regulation went into effect on May 25th, 2018, and many businesses are scrambling to avoid non-compliance penalties.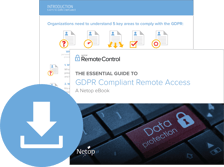 Download our free eBook to understand:
What exactly is the scope of the GDPR? Does the GDPR affect my business?

What are the 5 Keys to GDPR Compliance?

What are the penalties if I do not comply?